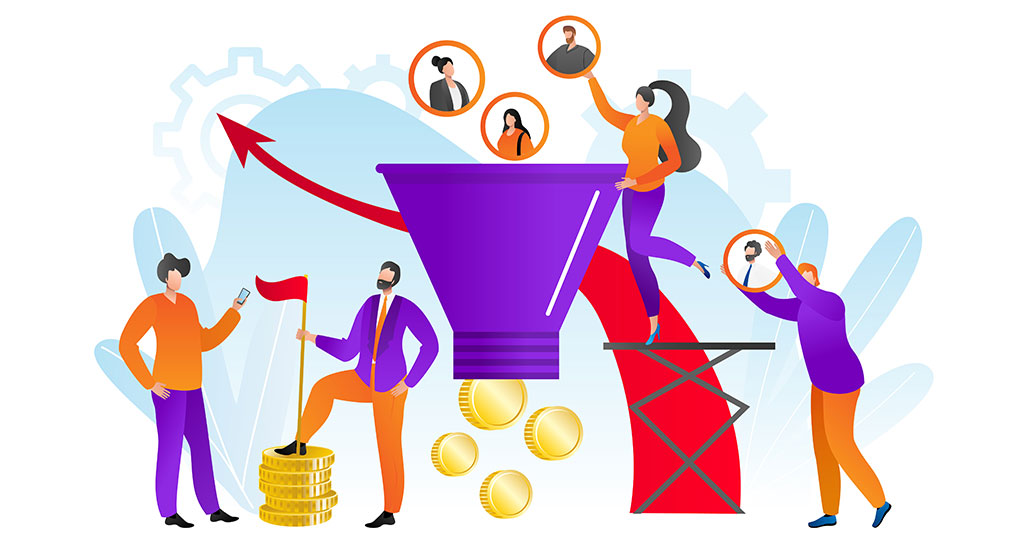 How to distribute leads and collect payments in real-time.
Any business with salespeople that relies on leads to grow its business must ensure its lead distribution system is working effectively.
The leads in your company can become overwhelmed by emails, spreadsheets, and CRMs, which can result in missed opportunities and potential customers needing to be noticed. You will find tips and new ideas on how to manage the distribution of leads in this article, as well as tips on how to create a lead distribution system that is effective and efficient for your sales team.
To have a successful lead distribution process, it is essential to have the needs of the customer and their company's goals aligned to achieve results.
It sounds simple, but it's complex. Let me explain.
In some businesses, it is crucial to ensure that all leads are distributed fairly so everyone in the organisation has an equal chance of success; this may be part of the culture. Yet other companies may need to ensure that their leads go to the top salespeople in the best position to close the sale. Typically, commission-only sales environments such as Real Estate like this method. This can be a problem, as the younger or less experienced salespeople don't get access to the best leads, which can lead to a feeling of favouritism.
The second problem with leads is that salespeople take too long to respond to enquiries. They don't have urgency, and there's a reason for this. They're not paying for the leads.
So, what can you do?
Use a system to distribute your leads in real-time and take payment at the point they receive the lead. This is the core process behind zapalead.com. A world-first payment system for leads and distribution tool all in one that connects with 99% of all CRM systems.
What are the three main distribution methods of Zapalead?

1: SNATCH iT,
2: Top Performer
3: Auto Sell
Let's dive into each option.
SNATCH iT: Sends the lead with hidden content to all sales agents simultaneously, and when the first agent buys it, they win and get to see all the content. This creates a 'frenzy' like culture with all salespeople competing to snatch the lead first.
Top Performer: This allows you to hide part of the content as well, but sends the lead first to the top buyer, then waits for a given period to allow the salesperson to buy the lead. If they don't buy it, it then goes to the next person, much like a waterfall sequence. Once the top performer reframes from buying the leads, the next salesperson moves up the waterfall, grabbing the first bite of the cherry. The system automatically moves the leads to the top buyers and, naturally, allows the best salesperson to get all the leads. The Top Performer option works in a similar way to Google's algorithm, which always gives the top position to the company buying the most clicks.
Now that we've covered a competitive lead distribution method let us cover a method that sends all the lead information with no hidden content and sends all the lead information in one SMS or email.
AUTO SELL You would use Auto sell when you want to Round Robin your leads; if you are not interested in selling leads according to your best performers or creating a 'frenzy' with your salespeople, you will probably prefer the round-robin method. Using this system, you can assign a set number of leads to each salesperson or team member. Zapalead will distribute your leads and sell them until they have dropped off or requested to be paused, and then it will stop sending the leads to the salesperson. Auto Selling leads are great for lead generators as this ensures all the leads are sold, and you can lower or increase your lead flow based on demand.
Pro Tip: I would always look at the 'frenzy' options in any commission environment. If I were selling the leads to a third party eg: as a lead generator, I would use the top performer option or Auto Sell method and link into seven days activation periods. You don't want clients swapping and changing their minds every day.
As a lead generator with over 15 years of experience, salespeople like having the leads sent via SMS. When you sell your leads, the salespeople will handle your leads like lightning. The salespeople that complain about the leads will leave within two weeks. You will find they will blame the quality of the lead and tell you the leads were too expensive, or the prospect we contacted wasn't interested. And this is often not the case. The likely scenario is that the salesperson needs more training on how to make the phone call. With all the leads I sell, I give them clear instructions on generating the lead and including sales training videos.
The issue of invalid leads will always arise when salespeople pay for leads. To deal with this problem, you need to clearly define what constitutes a valid and an invalid lead at the time of joining the company. The user must click I AGREE. This is vital for a company to succeed in selling leads to their team or as a lead generator; they must clearly understand the difference between 'intent' and an 'invalid' lead. With lead generation, this is the biggest issue you will face in selling leads, so make sure your terms and conditions are crystal clear.
Receiving payments for my leads, how does this work?
This is where Zapalead.com comes into its own. No other system in the world collects payment and sends the lead instantly.
When a salesperson signs up on the sign-up page, they enter their details and specify what type of leads they want or what location they would like. This information is synced with the back end of Zapalead so they get the right kind of lead no matter what distribution method is used.
Here's an explanation of how it works: If you send your leads to all salespeople simultaneously, once the user clicks on the link, the lead price will appear on the mobile screen, they must sign the screen, and their credit card will automatically be charged. As soon as the payment has been approved, the lead will be sent to the salesperson by text and email- the same happens with round robin.
Zapalead always checks the credit card of the salesperson, and if the card fails to pay, the next salesperson will get the lead.
You need to decide what type of lead distribution will work best for your business. If you are 100% commission focused, you should use water-fall Top Performer or SNATCH iT. If you sell your leads to a company with salespeople, then the Auto Sell Round Robin method would work best for them. This is because you know all your leads are being bought, and it's easier to manage.
Pro Tip: Selling leads using the other two competitive models does not guarantee that all leads are being bought. You need to manage this carefully.
Following the tips outlined will allow you to establish a system to help your team distribute leads and close more deals effectively, whether you're a lead generator or managing a group of salespeople within a company.
John McCarthy has 15 years of experience with generating leads online, www.flymehigh.com co-owner and founder of zapalead.com
Latest Post
How to get paid for your leads
Collect revenue from leads